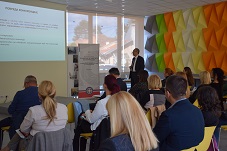 The Commission for the Protection of Competition in cooperation with the Chamber of Commerce and Industry of Serbia (CCIS) held a one-day presentation of the Guidelines for the development of a business compliance program with regulations on the protection of competition in the Regional Chamber of Commerce of Moravica and Raška District – office in Čačak.
The presentation was the second in a series that will be held throughout Serbia with the aim of familiarizing market participants with the rules in the field of competition protection and guidelines for the development of the Business Compliance Program with regulations on competition protection that the Commission published in December last year.
The current practice of the Commission for Protection of Competition shows that violations of competition often occur due to lack or insufficient knowledge of market participants. On such basis, the need to raise the level of awareness of market participants about the need and ways to comply with regulations in the field of competition was recognized.
In order to assist market participants in the process of adopting a compliance program, the Commission briefly describes and clarifies these "steps" in these workshops and guidelines in the adoption of such programs as well as competition rules.
The presentation in Čačak was attended by more than 30 representatives of market participants and the expert public. The next workshop will be held on November 1 at the Regional Chamber of Commerce of the Nišav, Pirot and Toplic administrative districts in Niš.